"I had the pleasure of trying out the 14 x 5-1/2 Transnare with African Mahogany inserts on a couple of different settings and I was very impressed by how great it sounded, very open and warm. It responded well to different dynamics and it was extremely sensitive and musical. In my opinion, Michael's idea of the interchangeable wood shell inserts is a game changer when it comes to drum making, and especially when we talk about custom-built snare drums. It brings more flexibility and more control to the player, like never before. Congratulations on such a fantastic and innovative creation!"   
Maurício Zottarelli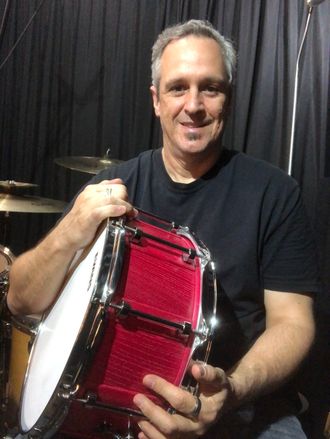 "Michael Carlito's snare drum is a work of art both sonically and visually. The drum has a wonderful response whether pianissimo or forte with a lot of sensitivity and warmth. This snare drum really stands out as a unique, wonderful instrument for those looking for a great sound and craftsmanship."
 Jeff Siegel 
drummer, educator 
"This is the real deal. I have been playing my Transnare drum for a few years now. I love the bright-crisp rock vibe sound, which is the driving force for my kit. The craftsmanship and detail in the lugs and throw off blend beautifully inlaid with the quarter sawn African Mahogany. Michael is truly a master at what he does."
 Mike Joyce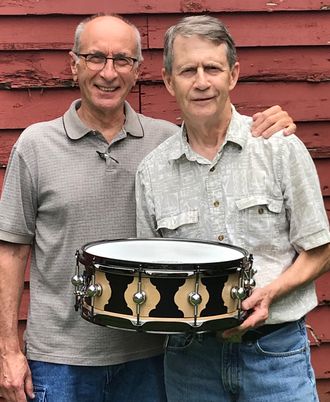 "Out of all the thirty-eight snare drums that I own, I really only need one. It is an amazing drum and concept Michael. The TranSnare drum is Awesome."
Michael LoMaestro
"I recently used the Transnare for a 60's rock concert at a 300 seat theater with great results. I chose the African Mahogany inserts for their warmth of tone and focus in the mid-to low range of the frequency spectrum. It certainly did not disappoint, with great performance at lower volume, and wide projection when struck with rim shots. I have known Michael for years and have had him make multiple drums for me, along with being my first call for all things drum related. He has truly broken new ground with his Transnare design, and I highly recommend them for their versatility and quality of build."
Nicholas Kopp